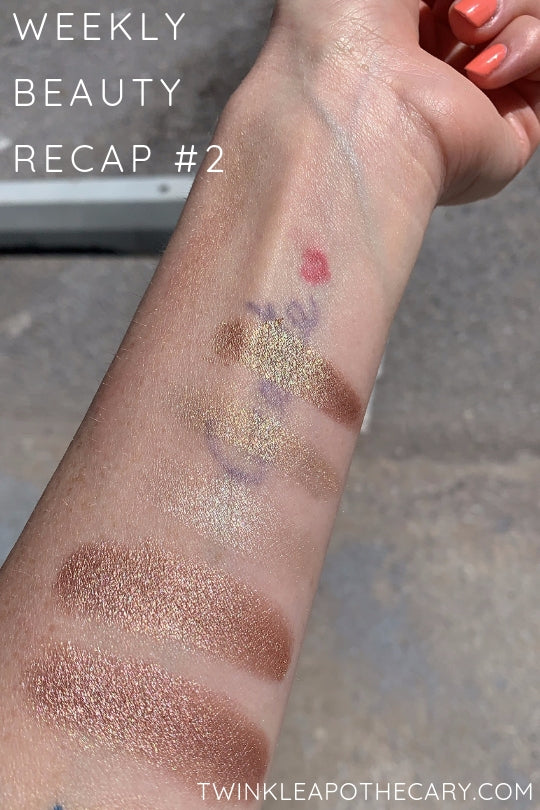 Here's the details on how I did my makeup last week! Links to shop all of the products are at the bottom of the post. 
Monday: 
The thing about my makeup is that it's so subtle (just the way I like it!) that it can be difficult to capture on an iPhone camera at 8:50 am on a Monday morning. (FYI I open my shop at 9. 😂) I take a few snaps then run out the door, and figure out which one best represents what I'm wearing that day once I get to work...
Face: translucent facewhip and mattifying powder, applied with a powder puff. 
Brows: cocoa eye tint, applied with the slanted side of my duo brush. I then brush my brows up and out with a stiff brow brush. 
Highlight and eyes: Here's the other thing. The highlights and shimmer serums often don't show up on camera the way they actually look in real life. They deflect light, so they just end up making my skin look a little brighter, and they can even blur the picture a bit. 
Even though you can't really see it in the picture above, here I'm wearing diamond shimmer serum on my cheeks, lids, and brow bone. How to: Roll on, starting high on the apples of your cheeks, going up into the eye, under the brow, onto the lower lid, and in inner corners, then tap with your finger to blend. 
Below is a picture where you get more of the highlight effect, but less of the eye colors. It really depends on the lighting. See what I mean? (Side note, the bottom picture was taken before the top picture. I added another coat of eye tint on my lashes, and brushed my teeth so my lipstick is a little worn off in the top picture!) 
Second side note, one way to get over yourself if you have a fear/aversion of taking selfies like I do, (seriously who knew this would be such a big part of my job?! 😩) is to remove your attention from your face and what it looks like, and instead focus on the best lighting for your highlight. Sometimes my face and expression is goofy, but I don't even care anymore because I just want you to buy my makeup. See how pretty it is?! (Don't look at me, just look at the things on my face!) 
I was going to stop with the diamond highlight on my eyes, but I decided that I wanted more pink, so I used my pinky finger to apply rose quartz shimmer powder just on the lower lids. 
Then, lashes: black eye tint, applied with the spoolie side of my duo brush. 
Cheeks: a dab of the stain on the apples of my cheeks, blended with my fingers. 
Lips: Bonafide lipstick by Axiology. 
Tuesday: 
Face: Sunscreen, barely bronze facewhip, translucent mattifying powder. Contour: with bronzing balm How to: apply with fingers on top of forehead, around hair line, below cheekbone, jawline and neck - it really helps blend in the pasty white sunscreen at the hair line.  
Brows: cocoa eye tint 
Highlight and eyes: I rolled citrine shimmer serum on my cheeks and all over my eye lids, blending with my fingers. 
Cheeks: rosé lip + cheek tint 
Lips: True lipstick by Axiology. The perfect classic red, which I of course love to clash with a hot pink dress! 
Honerable mention: Wave pomade for controlling all of the little wiry gray hairs that stand up when I'm trying to do a sleek ponytail! 
Wednesday: 
Face: same as Tuesday, except I subbed ginger snap for contour instead of bronzing balm. Why? I don't really know. Maybe I wanted a more pink/less golden bronze look, or maybe it's just what I grabbed first... 
Brows: nada. Actually, no, I brushed in some wave pomade. 
Lashes: Cocoa eye tint. This is my everyday color. 
Eyes: Diamond highlight balm, smudged on with fingertips. I think I prefer the balm in diamond (over the serum) because it feels softer and less sparkly. Its just a soft white. Today I just wanted to feel glowy, without looking like I was wearing too much. 
Cheeks: I skipped the highlight today and just did shell tint on my cheeks, which is kind of a blush and highlight in one, actually. 
Lips: Diamond highlight balm. I love that it looks like a gloss, but without the sticky gooey texture! 
Special shoutout: To my favorite tiny earrings that I almost never take out these days... and this super shiny headband that made my outfit! 
Thursday: 
Ooh! Ok, so I made a new shimmer color (I think I'll call it sandstone!) and couldn't wait to take it for a test drive. I ran with all of the warm neutrals today. 
Face: No sunscreen (It was supposed to rain, I know, I know that's not a good excuse...) Just translucent face whip and mattifying powder.
Brows/Lashes: Cocoa eye tint.
Eyes: I rolled highlight serum all over the lid/in the inner corners, blending with my fingers. Then, I used an eye shadow brush to apply sandstone (it's not out yet... hopefully later this week!) to my "crease." Then I used my pinky finger to dab some highlight shimmer powder to my lower lid. I rarely bother with a two tone eye (except on Monday of this week also, apparently) but I was really hoping that this color would be a good taupe-y neutral to add some depth but still keep it twinkle* Nailed it! 
How to/Very important note: if you have hooded eye lids, like me, you have to apply the "crease" color ABOVE THE ACTUAL CREASE. It will feel like you're putting it in the complete wrong place, but you're all good. If you put it in the actual crease, no one will be able to see it. Think up and out, just under the brow bone, and even on the brow bone. It took me about 34 years to figure this out and I'm still getting the hang of it. I rarely do it because it feels so dramatic, and my eyes are already kind of dramatic as is, so I usually don't bother. However, I see myself doing it a lot with this neutral shade going forward! 
Cheeks: ginger snap. (It'll be re-released thanksgiving weekend so keep an eye out!) 
Lips: I was so impressed with my genius color blending and shadow application abilities that I really couldn't think of what to put on my lips. I decided on a smear of the stain with a tiny bit of ruby on top to hold it down. 
Friday:
What was that about rarely going for a dramatic look?
To be honest, I think I avoid wearing makeup sometimes because I don't want to come off as dramatic or intimidating or aggressive. Like don't mind me I'm so nice and unassuming that you can't even see my features! I'm just a subtly glowy vegan fairy princess who'd never hurt a fly... *fades into background to avoid confrontation.* Also, I rarely leave myself enough time to do more than a swipey-swipe of something in the mornings. (I get up at 5:15 but I drink tea and do yoga and meditate and eat a nice breakfast and read and makeup is really just kind of an afterthought.) 
But today, I had a little extra time. And I was in a mood. 
Face: Translucent facewhip and mattifying powder 
Brows/Lashes: Cocoa eye tint
Eyes: I rolled obsidian shimmer serum to my lower lids only (from the crease down) using my fingers to blend. Then, I used an eye shadow brush to apply obsidian shimmer powder to my crease (actually just above my crease, see note from above) and outer corner. I used a fluffy eyeshadow brush to dust a small amount of highlight shimmer powder on my brow bone. 
Liner How to: I dampened a stiff, flat eyeliner brush with water from the sink, and dipped it into the obsidian shimmer powder, shaking off the excess. I used the brush to apply the shimmer powder as an eyeliner to my upper and lower lash lines. There was a tiny bit of fall-out on my cheeks/nose, but I brushed it away with a fan shaped brush. 
Cheeks: ginger snap again 
Lips: berry lip + cheek tint! 
Saturday: 
 I call this look, "What is even the point of having your own makeup line if you don't wear purple shimmer eyeshadow and black lips to work every once in a while?" Once again, I was dashing out the door despite having gotten up super early. I believe I was swishing mouthwash when I snapped this picture. 
Brows: Wave pomade 
Eyes: Amethyst shimmer serum 
Lashes: Cocoa eye tint 
Cheeks: Ballet lip + cheek tint 
Lips: Obsidian highlight balm  (This sheer, purple-y black color is a great way to dip your toes into a dramatic dark lip if you're afraid of attention grabbing makeup like myself!) 
And that was my week in makeup.
(File that under things I never thought I'd hear myself say.) 
Once again, my website doesn't allow me to respond to messages on my blog posts, but do feel free to leave a question below and I'll try to incorporate it into next week's post! 
-XO-