Twinkle Shop OKC's Featured Artist Summer 2018 - Sara Cowan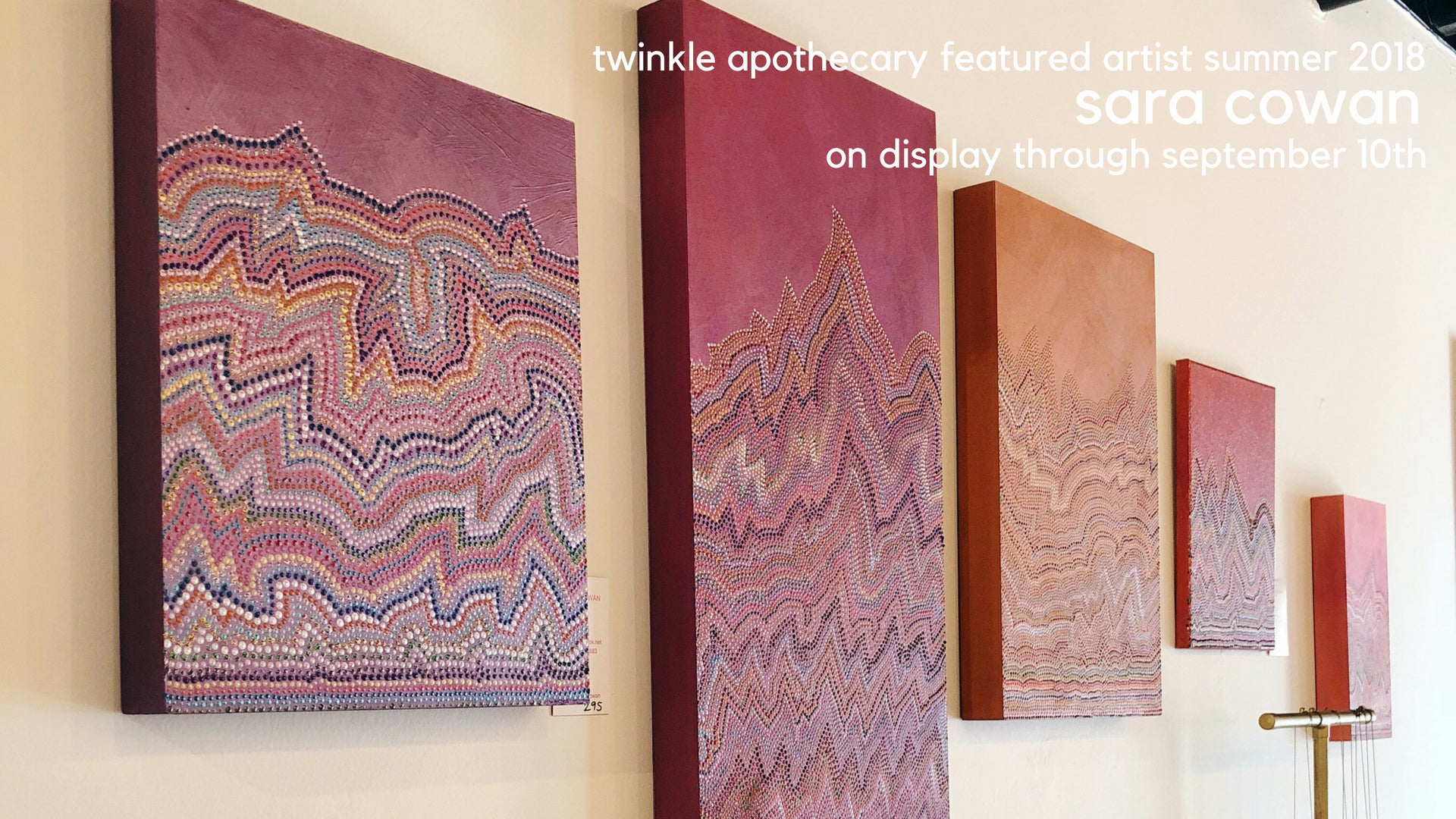 Hi, Oklahoma City!
Have you noticed the new gallery wall in the shop?! 
I'm so pleased to have a space to feature the work of an amazing local artist and friend, Sara Cowan. 
If you're involved in the OKC small business and/or art community, you might already know Sara - her bio reads: 
Director of Deluxe Winter Market, Founder of OKC ART TEAM, Curator and juror of group shows. Consultant for community art initiatives. Member of Factory Obscura. NPR listener...

but did you know that on top of everything she does to support local art and businesses in our community, she also makes beautiful paintings?! 
AND DID YOU KNOW THAT THEY ARE FOR SALE IN MY SHOP RIGHT NOW?! 
(AND JUST LIKE THAT I'VE FINALLY REALIZED MY DREAM OF WORKING IN AN ART GALLERY TOO!!)
As you can see, each of these paintings are full of rich textures, all of the colors, and although they stand alone nicely, I also love the way that they look paired together on my wall. Don't they just fit perfectly in the shop?! 
"My current body of work expresses a narrative reflecting the various impacts that life events can have on an individual's experience - some of us have fairly smooth sailing, others endure particularly volatile events and resulting reverberations. Though the work appears to reference geological formations, each is inspired by the diversity of human existence. Each piece represents one human life, with each line of dots representing a significant event or a year." 
So I'll need a big one then... 
Sadly, I can't keep these to myself forever. Sara has a show coming up in Norman on October 12th, so I will only have these on display for the next month. I highly encourage you to stop by and give them a closer look:
(Can you even imagine how much time and focus goes into creating these pieces?!) 
Prices range from $125-$850 and if you're not local, feel free to email me to discuss purchase and shipping arrangements. 
And if you're a local artist who'd like to have your work featured in the shop next, please email me with some samples of the pieces you'd like to display and some info about yourself so we can work something out - I'd love to make the gallery wall a regular thing!
Hope to see you soon!
-XO-