Transitional Scents to Enjoy Right Now!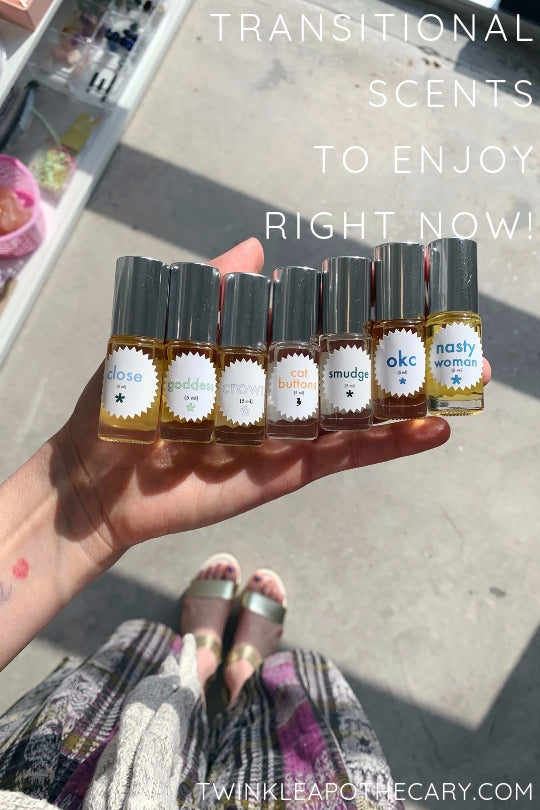 It's that time of the year... Labor Day has come and gone. Halloween decorations are out, PSLs are flowing, and everyone is sooooo excited for fall. Yeah... Fall is pretty great, isn't it? But you know what else is great? Right now. This awkward in-between the seasons time, where it's still nice and (ridiculously) hot, but the kids are in school, and we're all getting settled into our routines. Sure, it's not the most special time of the year, but it's also not the craziest, most stressful time of the year. And to me, that makes this a time worth celebrating.
Or at least not skipping over! 
One thing that I love about perfume is that it can make ordinary, everyday life a little bit more magical. So if you're down to make the most of right now, I've compiled my favorite fragrances that don't feel tied to any certain time of year or type of weather. Think of them as the neutral, classic, everyday pieces in your perfume wardrobe. Always good to have on hand for those days where you don't know what you want to smell like, but you just want to smell nice. 
In no particular order... 
The Asterisk Collection, Edition*04
This is one of the most complex fragrances in my collection, and therefore rather difficult to describe, (the official description is : A dry-yet-exotic take on herbs and woods, with amber and water blossoms,) and I am working on my writing skills I promise, but the more I wear it, the more I fall in love it.
If it's helpful, people in my shop often pick this one up and say, "Oh, it smells like Santa Fe!" 
And it does! It's Georgia O'Keeffe smelling of pinyon, sage, palo santo, and incense. With a little pink lotus, cognac, lavender, geranium, and just a hint of clove. 
It's sooooo right for those days when there's just a tiny hint of crisp in the air but the sun is still blazing. You know, like Santa Fe. 🙂 (Side note I have never been to Santa Fe but someday I will go and report back!) I'm still fairly certain that O'Keeffe would approve of this scent. 
So the idea for this one started off as a joke because I felt like the only local business who didn't have any OKC merch to promote during the Thunder games, but then I got really into the idea of creating a fragrance that evoked the smell of home and my childhood memories. 
Every Okie knows that thunderstorm smell. This is a September thunderstorm. Not an April thunderstorm, or a June thunderstorm. This is crisp. Magical. Grassy. Musty... in a good way... a much needed cool down... Y'all know what I'm talking about, right? Okies do. 🤠
My point is that if there were ever a fall-transition scent, this is it.
This is the basic white t-shirt in your natural perfume collection. Grounding, cooling... simple and down to earth. 
Even people who don't like lavender or swear they will never wear patchouli end up picking this one. There's just something about it. Besides the name, which, if you're just joining us, I did make the day after that fateful debate in 2016, because these were the essential oils that I was wearing in an attempt to keep my cool while trying to keep up with the 💩-show. 
It's been a top seller ever since.
And no, I'm still not over it... 
Smudge is how I begin my morning, almost every day. I brew a pot of tea, roll out my yoga mat, apply smudge to my wrists, neck, chest, and temples, and breathe in the magic while doing yoga. 
I also like to take this moment in the mornings to send my gratitude to the plants who give me so much, and also the growers, distillers, and everyone involved in the production of the ingredients that allow me to do this work. My perfumes are more than objects. They're alive. A lot of energy goes into making them. Please wear them mindfully. 
This one in particular is refreshing, uplifting, and smells like hiking in Runyon Canyon to me. A perfect reset, no matter the time of day or year. 
Crown is a fancier version of Smudge, with rose, frankincense, bergamot, sandalwood, (Blissed) and pink lotus added. It's the most uplifting scent, and it'll last a lot longer on the skin than the blend of herbs that comprise Smudge on its own. 
It's all of my favorite things, and perfect for any/every day! 
To me this one is very similar to Smudge, but more pretty, less earthy. This is another one that people go for, even after telling me how much they hate patchouli. 
The overall effect is fresh and clean, yet grounded. It's great for those days that are more summer than fall. (Like today as it's currently 95 degrees outside here, and yes it is what I'm wearing right now. Just sitting alone in my store, blogging about perfume because it's too hot for people to go shopping!) 
I'm poor, but I smell very pretty. 😆
Close is good for when you're ready to get your amber on, but it's still too dang hot for Cardigan. 
It's probably the heaviest of all the scents I've listed in this post, but don't let that scare you. It's also a little bit sweet and powdery, but don't let that scare you either! Uhhhhh there's lavender in it... does that help?! 😬
Just try it, OK? It's perfect for right now. 
Refreshing mint, citrus, and palo santo... this is one of the most uplifting, soothing scents in my collection. It's also one that's heavy in my morning yoga rotation.
Unfortunately I can't take all of the credit for the way cat buttons smells, because the idea actually came from a cool local kid who makes cat buttons to raise money for the Humane Society!
I just helped. But I'm still very proud of it!  
🙂
The Asterisk Collection Edition*08
This is the latest thing I've made and I'm very proud of it. I was going for transition and I happen to think that I nailed it. 👊
This one is a woodsy-lavender scent like Nasty Woman, but with a little more oomph. A little more personality. It's a little bit prettier... but still very much unisex.
Side note, I think that all of my scents are unisex. I don't like gender-ing abstract things like smells. Why do people do this?? 
This is the Perfume Junkie Club scent from last February, and I honestly just think it doesn't get enough love. 
I was trying to think outside the box for Valentine's day, but perhaps I should have saved this one for later in the year where it could have been better appreciated. Next year I'll be sure to make something extra sweet and rosy! 
But I digress... Tuberose Vert a lush floral that doesn't feel the slightest bit stuffy or sweet or heavy, which is why I consider it a transition scent. 
There's a bit of a rainy day quality to this one. It's also a good date night, or even a soothing bedtime scent. (Thank you, cannabis!) If you have it on hand, bring it back out for right now. If you don't, I'd love to make another batch for you. 
And if those 10 fragrances don't apeal to you because you're ready for it to be fall already, I did just re-list Cardigan, and I highly recommend checking out the perfume junkie scent for September, Ador-a-Beau!
Either way, I hope you have a wonderful couple of weeks until fall begins, officially.
🍂🍂🍂
-XO-