My Hair Care Schedule - Weeks 1 + 2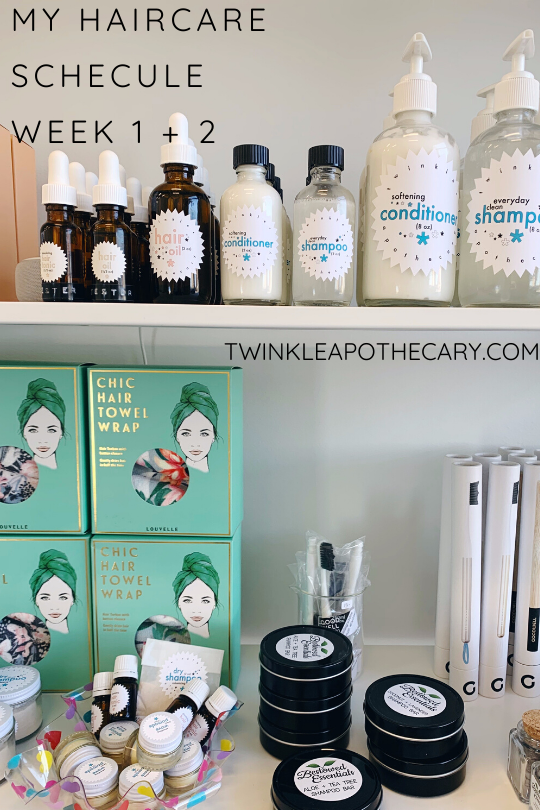 Hello, it's me again! 
I figured since I was sharing everything I do to my face, I might as well share my haircare routine too. 💁🏻‍♀️
You might notice that it's significantly more simple. I don't do ANYTHING to my hair, on purpose. 
I always thought that it was kind of silly that women were expected to spend so much time on their hair, and before I even started my own beauty brand it was my goal to figure out how to work with my natural texture (of which I have NONE,) and learn to live without blow drying, round brushing, straighteners, curling irons, rollers or any of that mess. 
Well, of course it took me having to invent my own products, but I've finally got the minimalistic hair routine of my dreams. 
Does it look perfect all the time? NO. Maybe never. (Definitely never!)
Am totally comfortable with that? YUP! 
I loooove that I spend zero time and effort on it - and I honestly don't know how I would even fit a blow dry into my schedule at this point. I like that I can throw on a beanie to take my son to school in the mornings when it's cold out without ruining my hair because there's NOTHING TO RUIN. I just brush it and get on with my work. And I don't know if you've ever been to Oklahoma City, but it is, no joke, one of the windiest cities in America. But that's not a problem for me anymore. (Yay?) 
Here's where my hair is at right now, for reference: 
(A quick desk selfie from today so you can see what I'm talking about. It's just kind of tousled and easy going. This is day 3 hair. I had a hat on earlier then I put in some of my new cocoa-rose dry shampoo to test it out. (Love!) I let it part wherever it wants to part. Somedays it's down the middle, some days on the side. I don't sweat it. 🤷🏻‍♀️) 
Texture:
My hair is fine and super straight and I have a lot of it, and at 36, my main goal is now to keep it all, lol - which means keeping my scalp clean and healthy and exfoliated and moisturized - just like my face - and of course eating my veggies, taking my vitamins, and making sure to get plenty of healthy fats in my diet. 
Color:
I am in the process of growing out my natural color (dark brown with a LOT of grays - I started getting them when I was about 21.) Up until a few months ago I was bleaching my hair platinum, but I decided to make my life even more low maintenance so my stylist matched my natural color with an all over chocolate and chopped it into a blunt chin-length bob. At my last appointment we just did a semi-permanent color glaze over the old bleached ends because I didn't want to cover up my grays or put any more permanent color on my scalp. I'll probably keep it short until all of my natural hair has gown out and I've gotten rid of the old, damaged ends, although I'm sure I will miss the texture that came from bleaching!  (I have a feeling my new wiry gray hairs will make up for it though...) 
Length:
I really love having short hair and I'm getting close to my next appointment which means I'm feeling like my hair is at that awkward too-long stage.. eh... oh well.
Washing:
When I was blonde, I was so paranoid about turning brassy that I barely washed my hair at all, however, my scalp actually likes/needs more regular exfoliation from washing, so I am trying to get back in the habit of washing more regularly. On one hand, it's difficult because I'm lazy and it's cold out, but on the other hand, I love actually being able to wash my hair as often as I want. There's nothing to avoid about my shampoo (not drying, no alcohol, no silicone or any hair-coating properties, etc...) and my hair/scalp is completely build-up free right now which makes me feel so shiny and happy and clean. I feel like my hair looks its best on day 2, and by the end of day 3 I'm like, yeah, it's about time for a scrub... 
My Salt Scrub DIY: 
Have you heard about this? A while back I started hearing about some salt-scrub exfoliating products for the scalp, so I decided to give it a shot, and OMG I love it! It really keeps flakiness at bay and makes my scalp feel so nice and fresh. I'm not big on buying exfoliating scrubs because they're so easy to DIY, so here's what I do... 
1. I keep a jar of fine-grain Himalayan salt in my bathroom for anything that needs to be exfoliated (usually my hands - I mix it with all-over oil at the sink!) You want to make sure it's a wide-mouth jar because the humidity of the bathroom can cause the salt to get stuck in a skinny-neck jar. I'm using an old Culina yogurt container - but an empty beauty butter/body butter/dry shampoo jar would be perfect. 
2. Right before I get in the shower, I pour some salt into my hand. I keep my hand with the salt in it dry/out of the water while I get in the shower and wet my hair. 
3. Once my hair is wet, I squirt some of my conditioner into the hand with the salt and mix it together to make a paste. 
4. I massage it into my scalp! At first I was worried that this would cause my hair to get really tangled or to break, but it doesn't at all. I just massage it in, all over my scalp, without working it into the rest of my hair, and 
5. Rinse it out! 
6. Shampoo and condition as usual. 
Not only does this make my scalp feel amazing, I feel like it actually makes my hair more manageable. Why? No idea. Maybe because it's extra clean? Anyway it's just good stuff. Try it sometime! 
Pulling it back: 
Listen, this is a big key to styling fine hair without heat, because pulling it back the wrong way with the wrong tools can cause major kinks and weird shapes (poufs/bumps) that you don't want. 
But, you've got to keep your hair off of your face during your skincare routine, and if you're not washing it, you've got to keep it dry in the shower, so here's what I do... 
Before my morning skincare routine/shower, I brush it with my bamboo paddle brush, then take the top half of my hair and twist it up in a top knot, clipping it with one of these styling clips. I mist wave spray over all of my hair, then I put on my shower cap and tuck in the ends/bottom half of my hair. 
(If only I looked this cute lol) 
When I say I put wave spray in my hair that day - this is usually all I did.
After my shower, I take off the cap and just kind of run my fingers through it and go - I might spray a little more wave spray in and scrunch it a bit, but usually not. If it's looking extra crazy or frizzy I'll work in a tiny bit of wave pomade, but I have to go easy on that stuff because my hair is so fine. (Wavy/curly haired people LOVE IT though!) 
At night, I typically do the same top knot with the styling clip, and then I'll simply clip back the bottom half of my hair with a styling clip on each side at the nape of my neck. Sometimes I wear my shower cap to do my nighttime skincare, but I'm usually feeling lazy and just clip it. (Why that feels easier is beyond me - it's literally the same amount of steps/effort. 😂) 
Sleep: 
I don't do anything special to my hair during sleep. I wear an eye mask, which keeps my hair off of my face, and that's it. Sometimes I wake up with crazy hair, sometimes not... I really don't care. If it looks awful I own a shop full of cute hair accessories or can always pull it back or put on a hat, you know? 
Dry Shampoo technique: 
I don't need as much dry shampoo now that I'm washing more often, but it really does help add some texture and volume on day three. I use my refillable brush and a very light touch. I let it sit/soak up the oil for a few minutes, then I use a smoothing brush - I have this one, made from cactus bristles - to remove any visible particles. (Here's another cruelty free smoothing brush option.) And yes, I maintain that the regular dry shampoo works just fine for me now that my hair is dark too. I just use a tiny amount and brush it out! 
Just for fun though, I am making a dry shampoo with cocoa powder in it for the February beauty box, so if you're one of the brunettes who's asked me to make this over the years, HI. Go get it! 
And I think that's everything I need to mention, (so many words for such a minimalistic routine, I know...) but email me if you have a question  or post it below and I'll work an answer into the next haircare blog for you! 
Here's everything I've done to my hair so far this year: