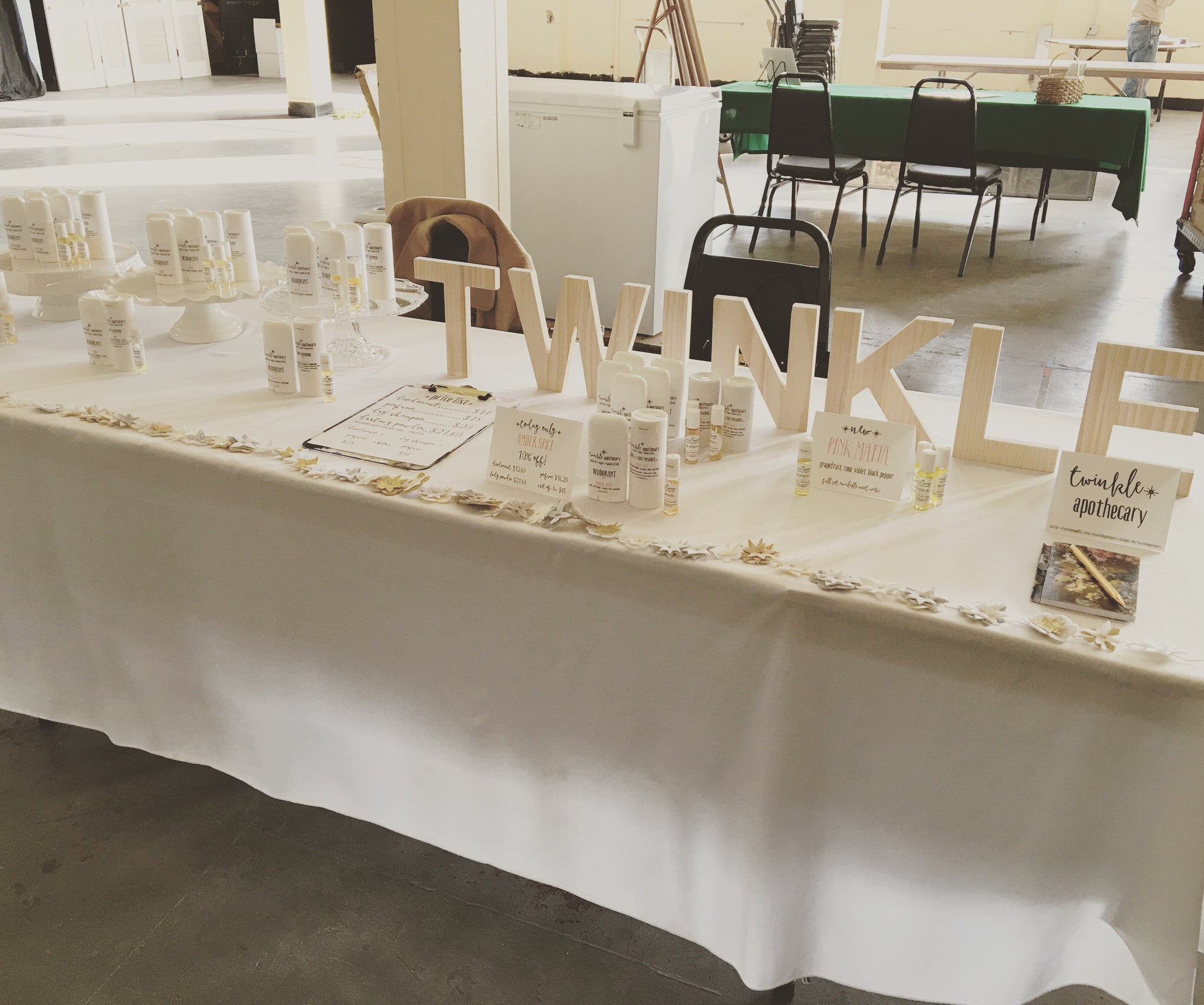 Happy Friday!
Who's ready for the last (unofficial) autumn weekend before the craziness of the holiday season begins?! I hope you get to take some time to relax and get all of your grocery shopping finished well in advance of the big Tofurkey Day! 
I am
SO excited
to be gearing up for another Saturday at the
OKC Farmer's Public Market
. I'll most likely be setting up shop there every weekend until they close for the winter, (
final market day is December 19th,
) because I just love having the opportunity to get out there and meet people who (
like myself
) are interested in supporting local artisans - not to mention mingling and swapping ideas with my fellow creative entrepreneurs here in Oklahoma City!
It makes me realize just how much I would love to have a brick and mortar (or bus, van, trailer, tiny house…?) shop of my own someday. Hopefully that day will be here soon, but until then, I am more than happy to peddle my wares in-person wherever and whenever I can… :)
And for those of you not in Oklahoma City, I want to make sure you know about two little surprises I added to the
Twinkle Apothecary Website
this week: 
1.) I added a 15% discount coupon for following along with Twinkle on social media!
To get the coupon code, all you need to do is go to the home page and click on the little blue present on the right side of the screen to follow us on your favorite social media channel! 
(This is what it looks like on a mobile device, but you get the idea, right? Just look to your right right now and click on it… SO EASY!)
2.) I increased the amount of points that you can earn by signing up for the Twinkle Star Rewards Program! 
Because I realized just how much
deodorant
and
perfume
you would have to buy to redeem your stars/points with the way I had the program set up initially, and I think you deserve a treat
waaaaay
before that! Just check out my
last blog post
for more details and
create an account
to sign up!
And don't worry…
creating an account does NOT mean that you're going to be added to an email list or anything like that. It's simply so that you can track your rewards and save your shipping addresses and such to make repeat purchases even easier! 
So… Can you tell I'm having a lot of fun setting up my shop(s)?! 
I'm still working out the details of how I want to approach next week - you know, Black Friday/Small Business Saturday/Cyber Monday - but once I decide on everything I plan to offer, I will let you know ASAP! Just make sure you're following on Social Media to stay up to date! (Not to mention that 15% off!) 
Have a great weekend everyone! 
-XO- Stefanie